Big Steps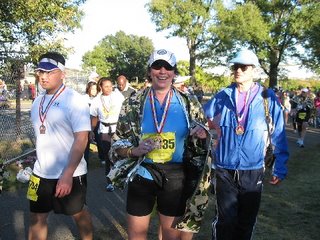 Here she is. Super Bon at the finish line!
Pam and Bonnie finished the Marine's Marathon in about 6 and a half hours - walking and running the way. I will let them detail their highlights - but I congratulate both of them for their hard work! Up next: Avon Breast Cancer Walk in San Francisco!
Out on the west coast - somethings are shaping up. Well, actually - a move is. Even though Charis might refuse to hear it, Trevor and I are pondering the move north to Sonoma County. We spend alot of time up in Healdsburg on the weekend and I think the country, redwoods and vineyards are calling our names. So I took a big step last weekend. I MOVED PART OF MY STASH. I realized that if I keep going like I'm going - then I might frighten all of those that love me if we start clearing out our apartment and everyone starts to realize HOW MUCH YARN I ACTUALLY HAVE. Of course I have alot of other random things - shoes, clothes, way too many handbags for one person. But the yarn thing is different. People don't understand how one person COULD HAVE SO MUCH YARN. Especially since I, like many other knitters I know, have carefully crafted different nooks and crannies for my yarn. I can just imagine it now - we are packing up the house and I have to run out for a bit...my roommates start finding yarn and then more yarn and then more yarn. I return to find my entire stash piled neck high in the living room with everyone surrounding it in awe and amazement and complete confusion. Therefore, my stash, just like it's secretive self - will secretly move northward, without anyone knowing...except for those who read this...umm.
And lastly our third BIG STEP of this post is a big shout out for Charis who just now is currently walking out of the doors from spending four hours taking the GRE for applications to Journalism school. She is one BIG step closer and I am sure she did great.
Congrats to everyone for their big steps.