back at it.
first - my thanks sent out to c-dawg. i have been completely delinquent in my blogging. luckily, right before my hiatus, i convinced her to become completly obsessed with blogging to hold down the fort. but taa.daa. i'm back.
things have been exciting in the wonder girl knits forefront. we have set a date for the first annual wonder girl knits holiday extravaganza - more details to come.
we will gather all of the wonderful knits that we have chugged along on - welcome our friends and fmaily into our homes and sell them at an exorbitant prices! ha, just kidding. but we will have a little holiday gathering in early december with our goods for sale.
on the my own personal knitting front, i have knit my beau a watch cap:
oh blah, the picture won't come up.
it is made of a lovely denim color of 100% wool from Bartlett Yarns.
Bartlett Yarns
is an incredibly cool mill that spins local wool. From their website:
"In 1821, Ozias Bartlett started his yarn spinning mill on the west bank of Higgins Stream in the village of Harmony, Maine. He took in locally raised wool and returned spun yarn in much the same manner as a village miller taking in grain and returning flour or ground meal. The original Bartlett spinnery probably was first powered by an undershot water wheel that was replaced some time in the 1840's by a water turbine. "
How cool is that? I love it. BUT I must admit this hat is incredibly thick, incredibly itchy, incredibly big. But my dear beau seems to love it. His afro is so big that it needs something big and warm to cover his ears during the somewhat cold northern californian winters.
In other knitting ventures - I am ALMOST finished with this: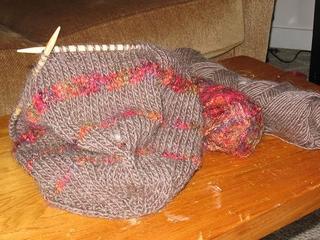 the felted lucy bag
Super Bon is also making it. Did you get to felt it last weekend? Let's see pictures! (This is my meager attempt to get her to start blogging with HER NEW COMPUTER). But I do give her a break because she is running/walking the Marine's Marathon this weekend! With Super Pam! Go wonder girls. Go.