yarn in the adirondacks.
ok. back at it. i have safely traveled from the border of canada and new york - all the way back to san francisco - with all of my new yarn, my new projects, my dirty clothes and a couple of wonderfuly new patterns.
first, i owe everyone a few pics from the trip:
adk01

Here is the
Yarn Harlot
and Susan and Lisa from
Adirondack Yarns
, where you will find views like this:
adk02

and this:
adk3

yes. it's true. they have lovely walls and nooks and crannies of yarn and more yarn. and they are very nice. i have never really seen my mom (super bon) grab, touch, and run to buy yarn as quickly as she did here. she got some beautiful fleece artist yarn to knit with. i think her purchases made her go so far as to do this: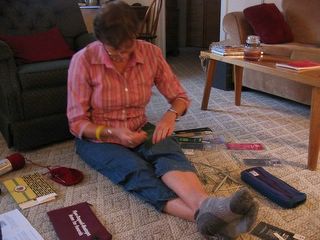 mom

that's right...look carefully and you will see THOUSANDS of needles. she is organizing her needles. go super bon.
i have a couple of new projects to speak of - and will post them tomorrow. i am working a day too slow, it seems. go red sox.
ps. thanks to these lovely wonder girls for a lovely weekend:
pambon