diy dye
spaghetti ala gross? noodles a-no-no?

The reviews are in:
"Why are you cooking spaghetti in urine?"
"That looks like something I saw in the markets of Ho Chi Minh city"
Well, no, it's not what it looks like - it is the yarn that I had unravelled (see below).
To start off, I wrapped the wonder white skeins of cotton around my empty paper towel holder, for lack of a correct knitty noddy.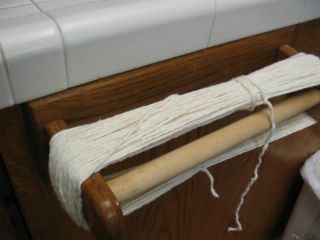 make-shift kitchen knitty noddy

Once wrapped into a hank (correct term?)- I dipped it into the warm water and dropped my ingredients in. I decided to go for the basics:
1. a 2003 bottle of merlot (i will leave the vineyard out of this, because i didn't really like the wine, hence it being used as a dye instead of getting drank).
2.purple surf koolaid.
3.green food coloring.
4.yellow and red food coloring.
5.tumeric.
currently they are all stewing out in the sun - we'll see what we find next week...